Post by Creepy on Nov 17, 2013 10:55:08 GMT -4
My shop is crowded, always looking for ways to make the layout work better without taking away capabilities.
Had this big 1/8 steel workbench since moving in. On first appearance, it seems pretty decent. But its not flat, you can't clamp to it with that big flat front face, and the left half was constantly full of 'stuff', instead of being a workbench, it was short term storage. I wanted to cut it down and put a heavy flat top on it. I moved out the steel storage that was below it and found other spots first. It was already organized in crates, stuck it all under the lathe after removing some clutter. So that was easy enough.
Stripped out pic-
The impetus to begin was these two blue cabinets I 'found' in Burnside. They were around a garbage bin getting chucked out. 16G steel, cabinet doors, and an adjustable shelf in each.
I have another table on casters that makes the large size of the workbench unnecessary. Shown rolled into postion, and the spot for the new bench empty.
Started framing them up with free steel I got from Crazyfrog years ago.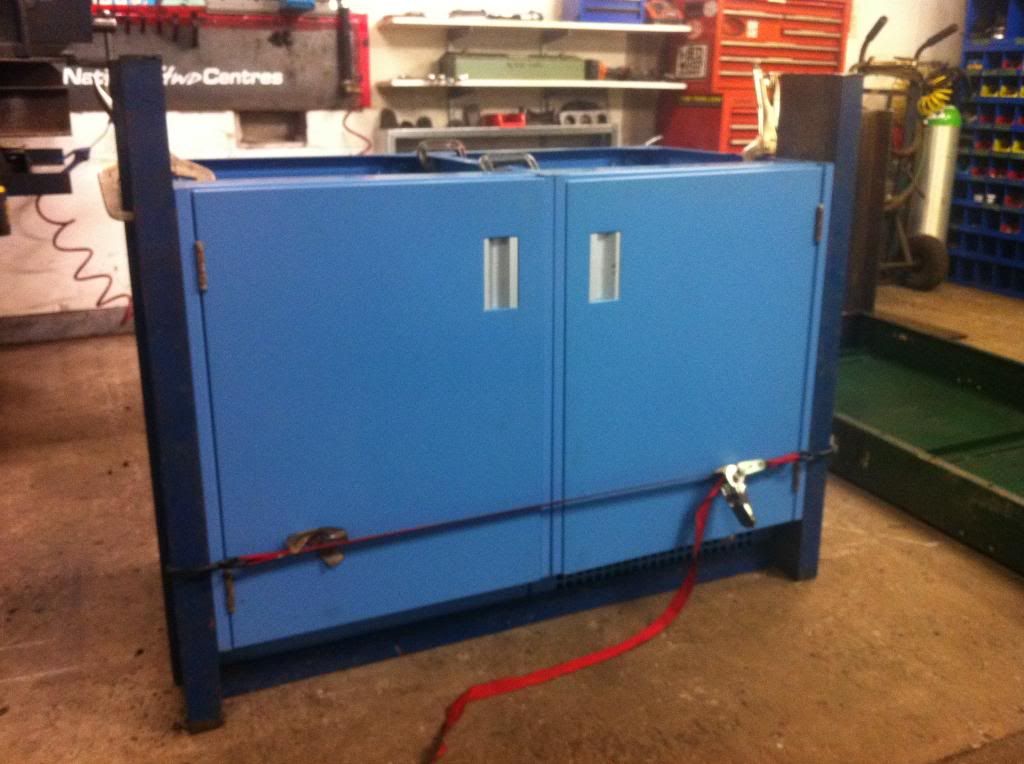 The frame was going pretty good, to get the height I wanted there was room for a drawer. Found some heavy-duty drawer slides around the parts barn, and made a sliding base.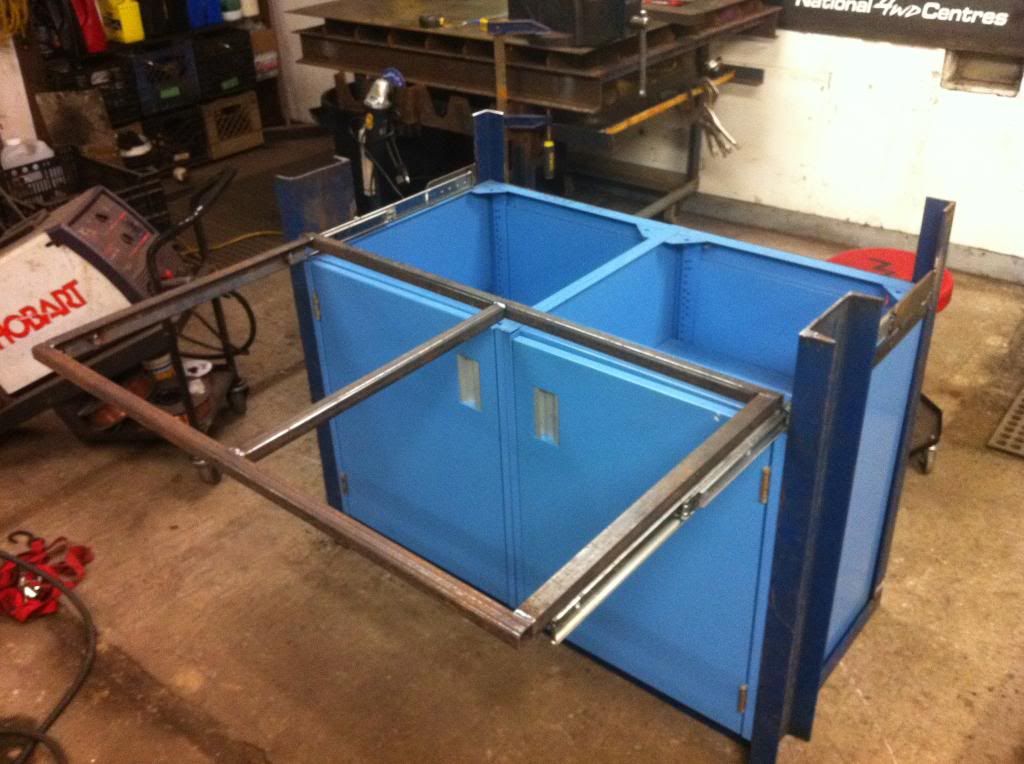 I knew Scott had these pans out his place that Big6 made for him to sort steel in. I though one might be close, so I took it home to try. It fit perfect, like within 1/8"! Nice fluke!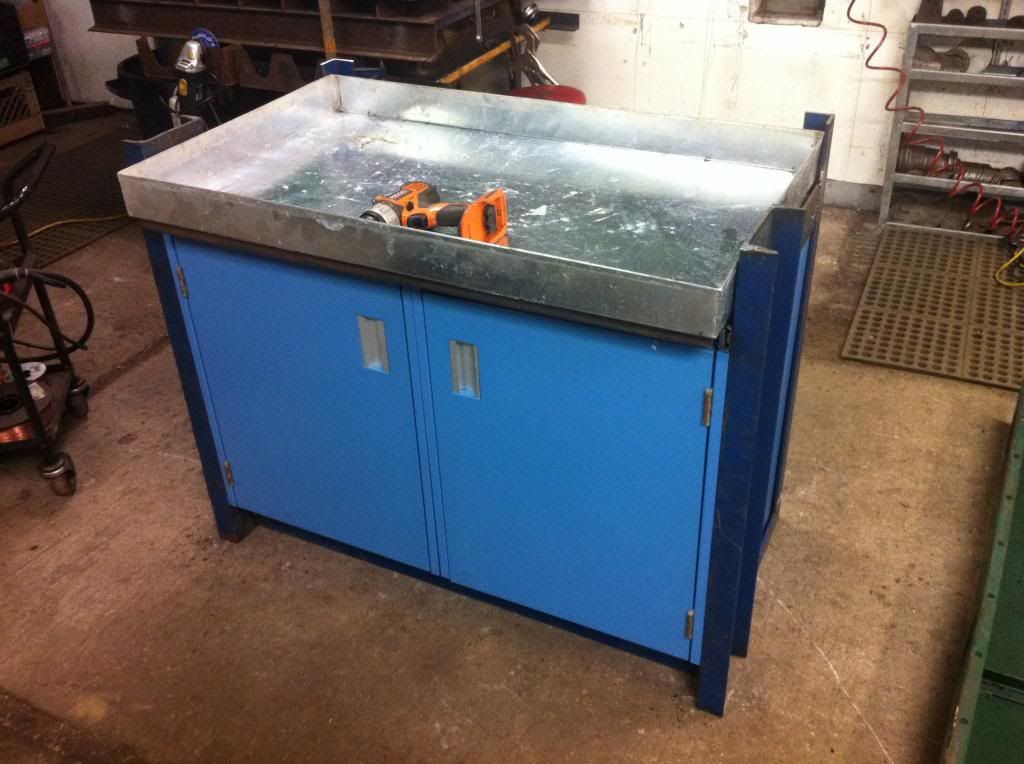 Bought some 3/8" and used the plasma table to radius the corners and make a 3 position vice mount.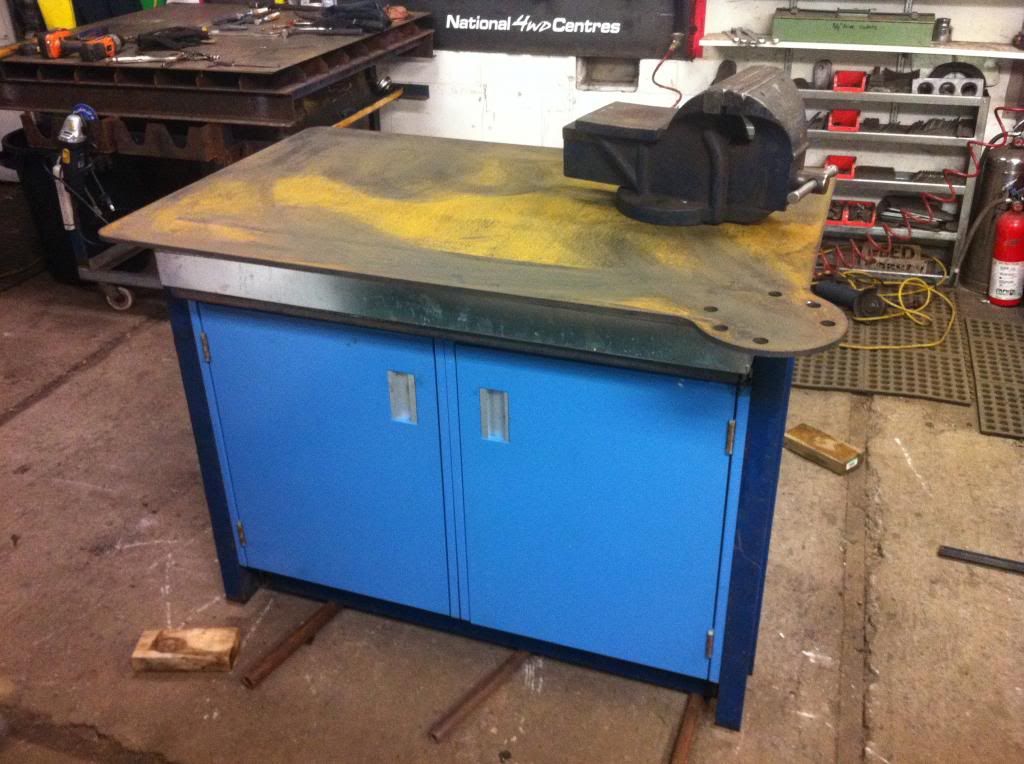 My plasma table does a sweet job of 3/8". I frigged around with ait a bit to get a nice square edge for this item.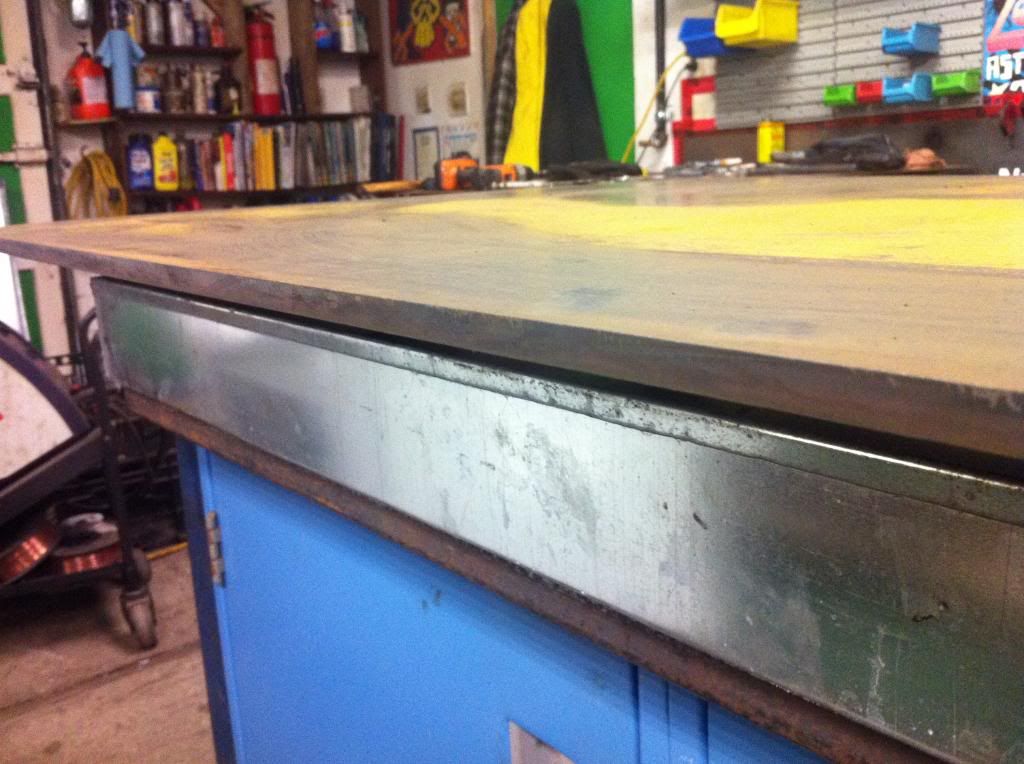 pretty much fabbed up, just getting ready to move it back to the wall. note use of pipe and prybars to move, its around 300lbs. Big brace under the vice for support to the C-channel leg.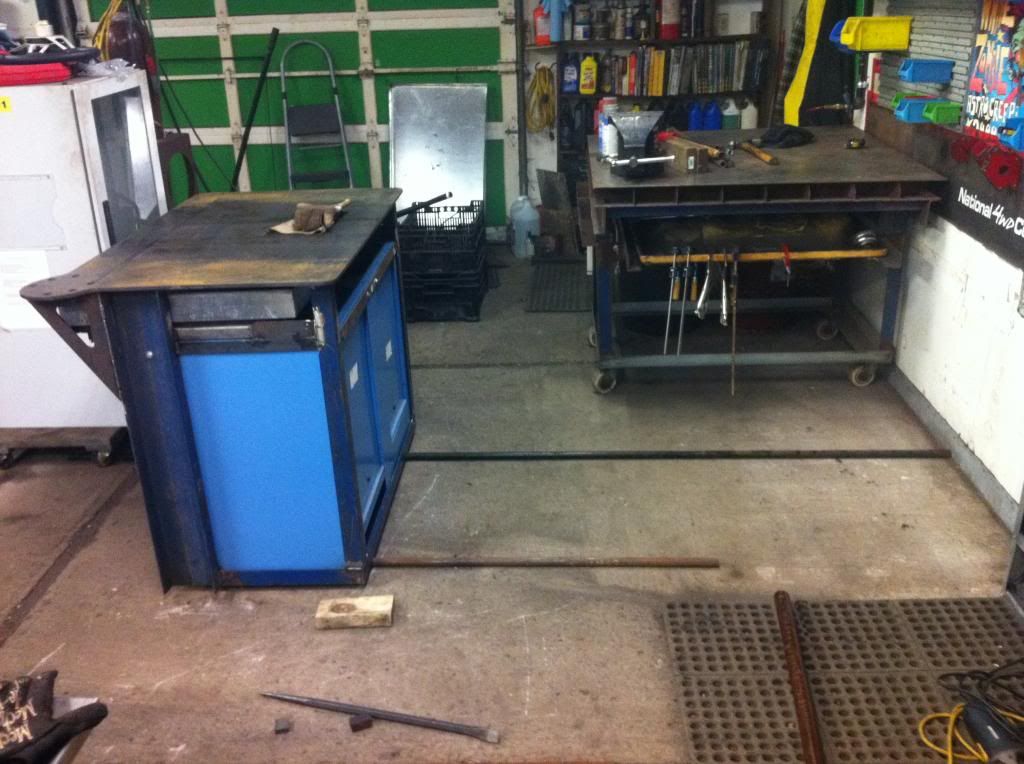 Put angle grinders, electric impact, drills, recip and consumables in there. Free'd up a ton of space in my tool boxes.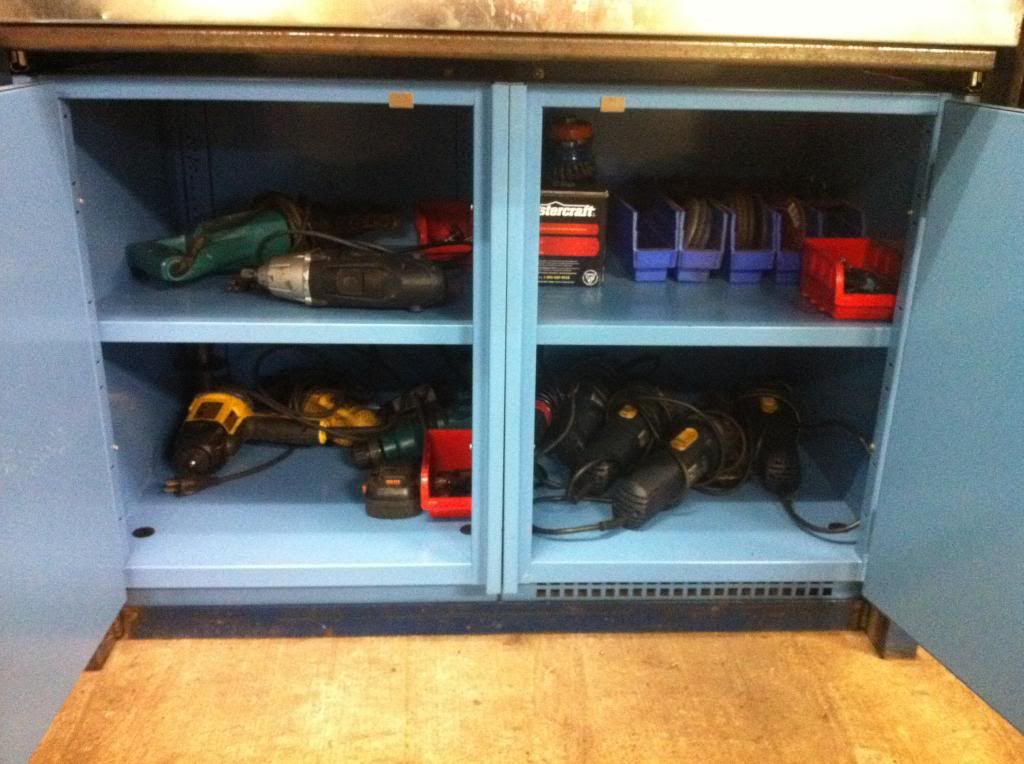 Lined the top drawer, and put my bender dies in there, and big balljoint kit. Good for big flat stuff. Its a storage drawer, not a 'working' drawer that I'd use a lot. If stuff is clamped to the table, the drawer might not want to open, so I put stuff in there that wouldn't need to be accessed very often, and not when I'm clamping stuff down to weld or whatever. The slides are rated for the weight, and it opens/closes nicely. Little hip check and it clicks shut.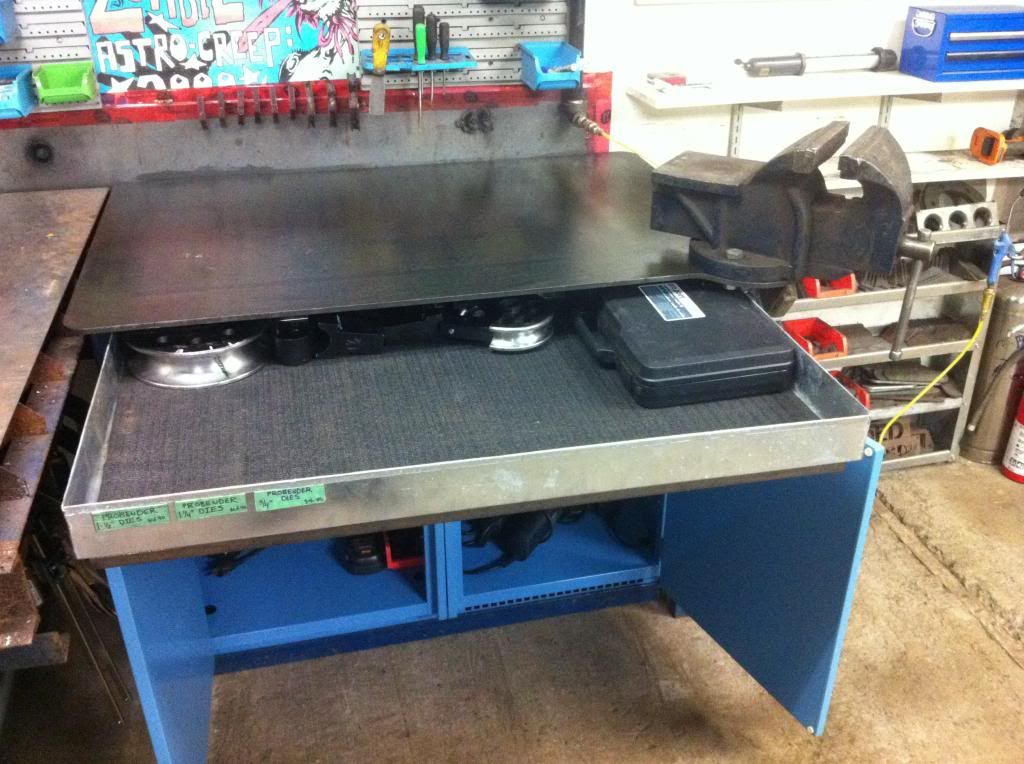 Added a powerbar and oiled the top. Nice finish now.
Ready for action. Its really nice and solid to pound on, lots of weight down low for stability when using and abusing the vice.